Table of Contents
Minimum Requirements
Standard Deployment
Deploying via MSI
Getting the installer
Uninstalling/Reinstalling
Uninstalling Syncro: The Mac Agent
FAQ
Troubleshooting
As you already may know, the Syncro Agent can do a whole bunch of really cool things, but how do you get the Syncro Agent on a device? We're going to cover exactly that right here so you can get started quickly!
Minimum specification requirements
CPU: 1GHz or faster 32-bit (x86) or 64-bit (x64) processor
RAM: 1GB Memory
HDD: Must have 1GB of Storage available (size will vary depending on policy)
OS*: Windows 7 or newer, Windows Server 2008 R2 SP1, Windows Server 2012 R2, Windows Server 2016, Windows Server 2019. It is not compatible with Windows Server Core.
Internet: An internet connection is required for initial setup and for the agent to check in. Once the agent is installed, if the internet were to drop, the agent would continue to operate offline.
* The Syncro Agent requires compatibility with .NET 4.6.2 or higher (https://docs.microsoft.com/en-us/dotnet/framework/get-started/system-requirements). If you are having trouble installing the .NET Framework on a Windows Embedded device, try installing it independently of the Syncro Agent.


Here is what you will need to get started to get a Syncro Agent onto your customer's device:
1) Your Customer stored in Syncro. (Click here to learn how to add a customer)
2) The physical Customer's device that you would like to install the Syncro Agent on.
And that's it! You are ready to install the Syncro Agent!
Standard Deployment How-To
MSI Installer How-To
Silent Installation Instructions
To install via command line or to script a silent install please see this document: https://help.syncromsp.com/hc/en-us/articles/115003242413-Importing-Existing-Assets-from-another-RMM
Steps to install Syncro onto a Device
Now that you have everything ready, let's get started! First, head over to your "Customers" list in Syncro to find your customer.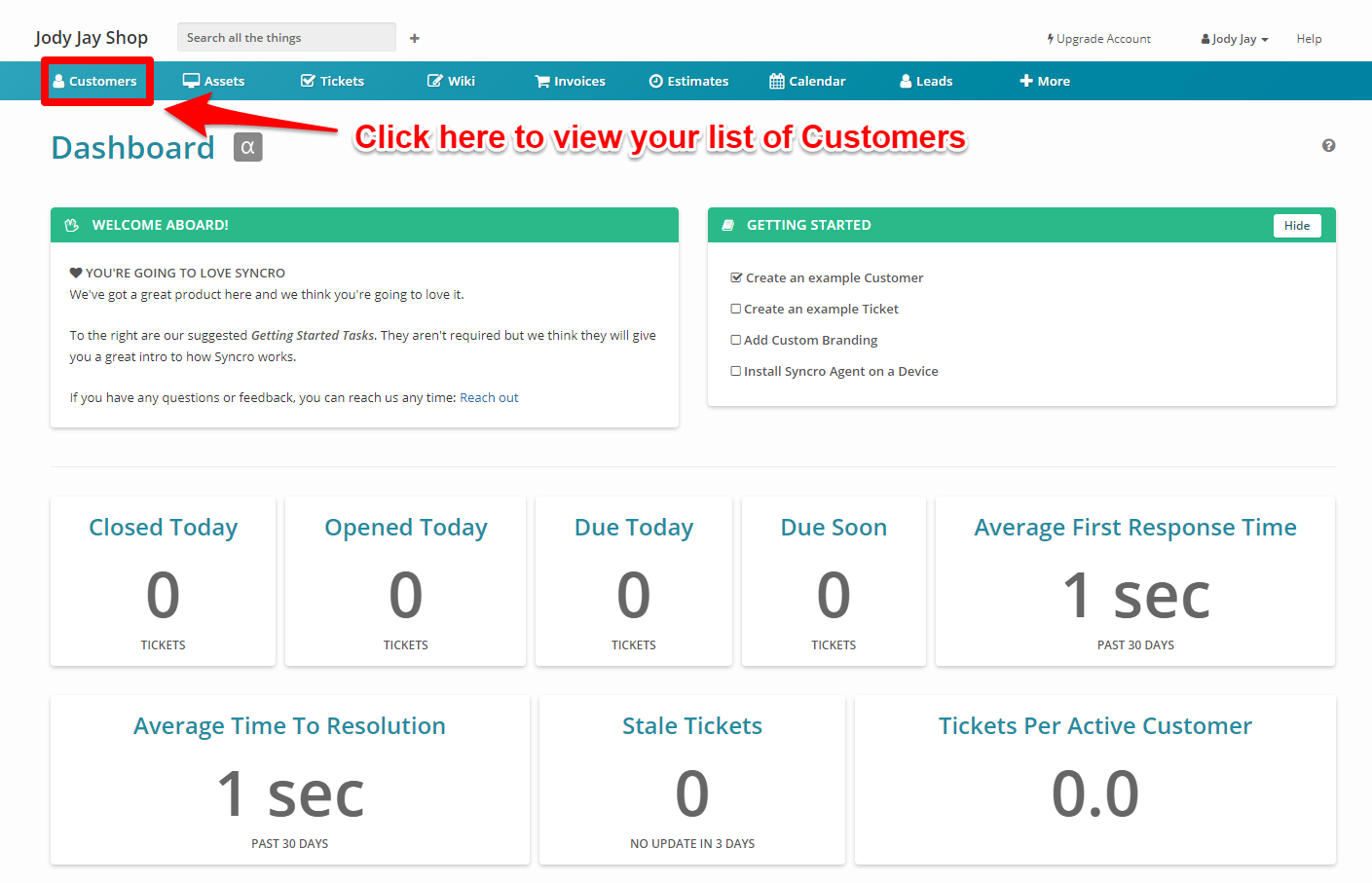 Next, select the customer from the list to view their details. If you do not have the customer listed yet, read how to create a customer.

Once you are here on the Customer Details Page, click New > RMM Agent Installer to pull up the prompt to select an installer for this customer.
You will be presented with a few installers for the device. Select the one you would like to use for the features and settings you would like for the device. Learn more about these features and settings known as policies, including the ability to require a PIN to uninstall the agent.
Now that you have selected an installer, the installer will be downloaded to your computer. You will now want to open the installer on the device you would like to install Syncro onto.
Public Installer Link
When you go to select an installer option, you can click the clipboard icon to generate a public link for that policy. The public link will save to your clipboard and you can then use that link to send to your customers in a one-off email.
Using the install file to install Syncro
Now that you have your installer all ready, you will want to open up the installer on the device with Administrator permissions. This will queue up the install, and name the asset after the computer name. You will receive a confirmation message like this once the install is completed:
Also, the device will now show up under the customer's assets here:
As well as in the assets list as a "Syncro Device" here:
Sending an Installer to a Customer
You can also have your existing customers install the agent remotely by sending them a link that will generate an installer for a specified policy. To do this, you will need to create a ticket for that customer and then selecting the option to 'Email RMM Agent Installer Link':
You can use the dropdown to choose the policy you want to send to the customer and send to them via email or a public ticket comment.
Uninstalling Syncro
You can uninstall a Syncro Agent by deleting the asset in Syncro. This will queue up a full uninstall on the device upon its next sync or reboot.
You can also uninstall Syncro just like you would uninstall any other program. Just head over to the Control Panel on the device and select "Add/Remove Programs" to uninstall Syncro and you should be all set! You will know the Syncro Agent is completely uninstalled when you see this confirmation message:
See these steps if you want to require a PIN to uninstall the agent.
Also, if you are uninstalling to re-install, please make sure to reboot the device after the uninstall.
Uninstalling Syncro: The Mac Agent
The above steps should also remove the agent from any end-point, regardless of the operating system. If you run into a circumstance where this isn't the case, the MAC Agent Uninstaller would be your next step for removing the Syncro Agent. You will find the MAC Agent Uninstaller at the end of the article, with the other uninstallers. Please note that you must have the SUDO password for the MAC Agent Uninstaller to operate.
FAQ
I was not able to uninstall Syncro by recommended methods.
The uninstaller is linked to the bottom of this article. Please run this as admin on the device, then reboot.

Does the Agent work on a VM (virtual machine)?
Yes, as long as it the VM meets the minimum specs listed at the top of this article.

Does the Agent work with non-persistent VDI (virtual desktop infrastructure) devices?
Not at this time.

I installed a Syncro agent on a server used for credit card processing. The server needs to be PCI compliant and is now getting flagged for TLS v1.0 and v1.1 during a vulnerability scan. How do I fix this?
Just disable TLS 1.0/1.1 on the server, and then our agent will be able to work with the up-to-date standard TLS 1.2/1.3.
Troubleshooting
If you are ever having any trouble installing Syncro, you can always contact help@SyncroMSP.com and we will be happy to help! However, here are some troubleshooting tips to help you get up and running even faster.
When installing Syncro on the device, please make sure to run the installer as an Admin.
If you ever wish to reinstall Syncro, please reboot the device after uninstalling before trying to reinstall Syncro.
It is always a good idea to try downloading a new, fresh installer from the Customer Details page to ensure your installer is up to date.
If you are having issues installing, make sure there are no connection issues as there are additional files we have to pull from our servers during install. Please make sure the following sites are whitelisted on all firewalls, AV or any other network security:

*.kabutoservices.com
*.syncromsp.com
ld.aurelius.host
And make sure you can access this site from the asset: https://production.kabutoservices.com/syncro/main/updates/RELEASES