Some historical background on Inventory vs Parts Modules:

Inventory is one of the most powerful modules in the application. It tracks all sorts of physical/electronic devices, labor, deposits, prepay hours, quantities, when to refill stock, etc. This is the normal equipment you work with everyday, and expect to have in your store or warehouse. When you have low stock on specific inventory, you want to be kept informed so you can re-order. This is why we send out a daily email of all low stock in inventory, so we keep you notified on a daily basis. You use Purchase Orders to resupply low levels of Inventory. Purchase Orders are directly connected with your Inventory and Vendors, making that entire process easy. The Parts module is a completely separate entity.

Parts were intended for a different purpose. This module was created for special orders that you don't normally do, or don't usually keep in stock. Example: Special phone screen for a phone that you don't normally work on, or a special motherboard for a laptop.
Please note, our Inventory Module was renamed to Products and Services. We are working on updating all mentions of Inventory to the correct verbiage within Syncro and our Knowledge Base.
Getting Started:

The Parts page will show you all of your current Part Orders in a list, and you can create a new one by clicking "New Item" in the top right:


Automatically Adding Part Order to Tickets:


Part Orders that follow some criteria can have the part automatically added as a Ticket Charge to a ticket. First make sure in the Part Order that it is linked to the correct ticket, there is a quantity entered, a retail cost for the customer, and optionally it can be marked taxable as well. You must fill out these fields before the part will be added as a Ticket Charge.
Note: If you are using the Automatic Markup feature then you only need to enter the Cost for the Part and the price will be automitcally reflected for you. More info on there here.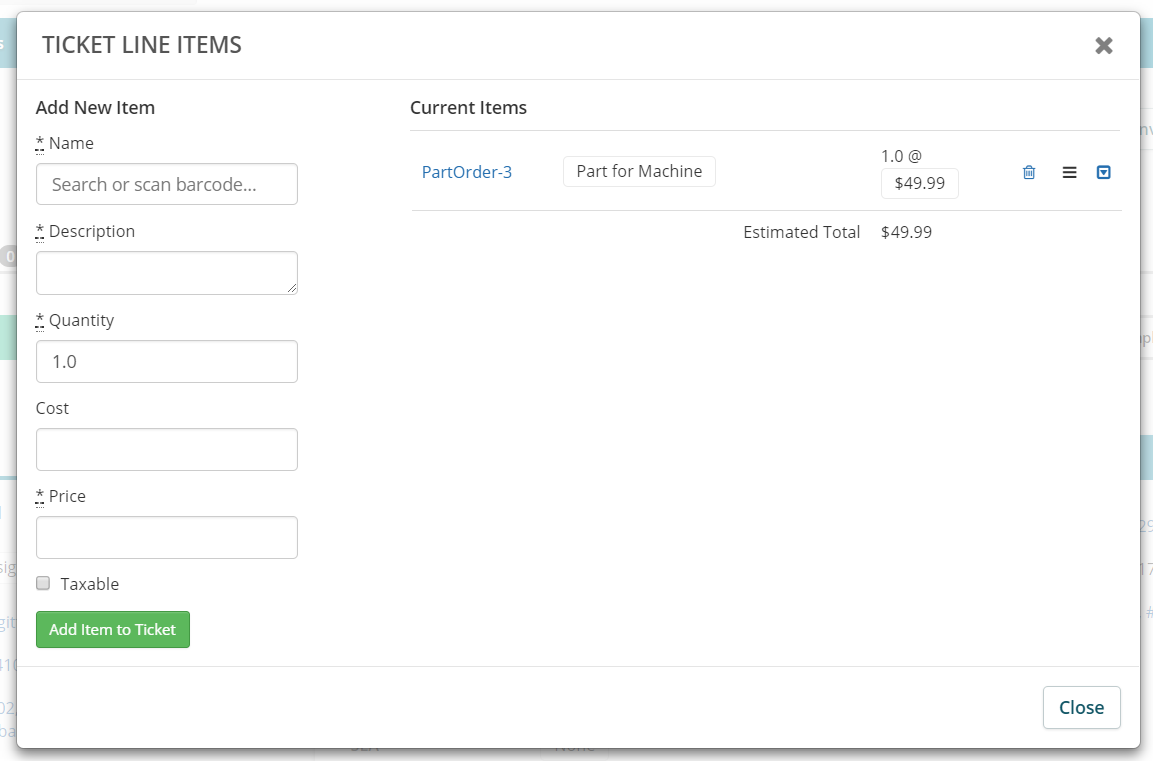 Once the Part Order has a date set for "Received:", it will be marked as resolved and the part will be added to the ticket as displayed above.
Invoice Directly from a Part Order:
Part orders can also be added to an invoice without associating a ticket to the part.
An invoice can be created from the part order before or after the part is received:
Once the invoice has been created, it will be linked on the part order: