Table of Contents
Summary
In the software there is a concept of a "Lead" which is sort of a light-weight inbound contact request. Web forms and inbound emails will generate these. You can flip on a setting to have the system automatically convert these to Tickets if possible - meaning if there was enough information present for a valid ticket to be generated.

By default your account will have an Inbound Alias that is set to: SUBDOMAIN@syncroemail.com that your customers can email to reach you. You can configure the system to create Leads or Tickets from these emails, and you can reply using this email address as your 'from' address.

We also added the concept of a "Mailbox." This is sort of like the standard email mailbox, it's an email address. This is the way you can setup support@yourcompany.com to pipe into your account. Using Mailboxes you can configure on a per-mailbox basis if you want an autoresponder to be sent, or if it should just make a Lead, or try to convert all the way to a full fledged Ticket.

Ok - So the "best" way to do this is to go to create a "Mailbox" that will have your email on it, then configure the Autoresponder settings there in the mailbox.
Tour - Setting up a Mailbox
First - head to Admin, Mailboxes, and click "New"





Put in your email like "support@yourcompany.com" and give it a name, hit "Create Mailbox"

Next you'll need to "Activate" this mailbox, this is just a simple step that tells us if you have forwarded your email address correctly.

Follow the steps to forward/redirect your email address to us, setup your SPF record if you want, and then send us that test email.





Great, now you can make this mailbox the "Primary" if you want all your outbound email to send from this email address. This way replies always come back into the system properly. (do it..)





Ok - Now the really fun part, on the Mailbox Edit Page you'll see some choices:


Descriptions:
Automatically create tickets from emails to this mailbox - There are 3 options to choose from:
- Never: No Tickets will be created from inbound email.
- Always: The system will create tickets from inbound email (assuming there's enough data to create a customer).
- Only for Existing Customers: Tickets will only be created if a customer exists in your account already.
Send Lead/Ticket Autoresponder - If a ticket fails to be created, it will still make a Lead. With this ON we will use the new Lead and Ticket Autoresponder templates from the Email Templates page (Admin, Templates, Email)
Enable After-Hours Autoresponders - This will allow you to create separate autoresponders for both leads and tickets that are sent out inside and outside of business hours. Templates will be defined below under 'Advanced - Autoresponder Override'.
Set Issue Type - Choose the Issue Type for Tickets created in this Mailbox
Set Ticket Status - Choose a Ticket Status for Tickets created in the Mailbox
Assign Ticket - Choose a tech to assign to the Tickets created in the Mailbox
Advanced - AutoResponder Overrides - In here you can customize the Autoresponder template on a per-mailbox basis for both lead and ticket autoresponders. If 'Enable After-Hours Autoresponders' is selected, you will see templates for both leads and tickets inside and after business hours:

Troubleshooting
1) Leads must be enabled for mailboxes to function, so if you are not receiving any inbound emails to your mailbox, or your tickets are not sending using your mailbox email address, please make sure leads is enabled (shown below).
Alternate Method - Leads (global setting, simple)
First you'll need to enable Leads. (Admin > Leads Preferences). This makes the system process your inbound emails differently to support this feature.



Which email address should I give to customers?
The inbound email alias email defaults to yourbusiness@syncroemail.com.
Automatically create tickets
To have incoming emails automatically converted to tickets if the sender of the email matches an existing Customer (or a Contact of the Customer), navigate to Admin > Ticket Preferences and select "Create Tickets from Leads".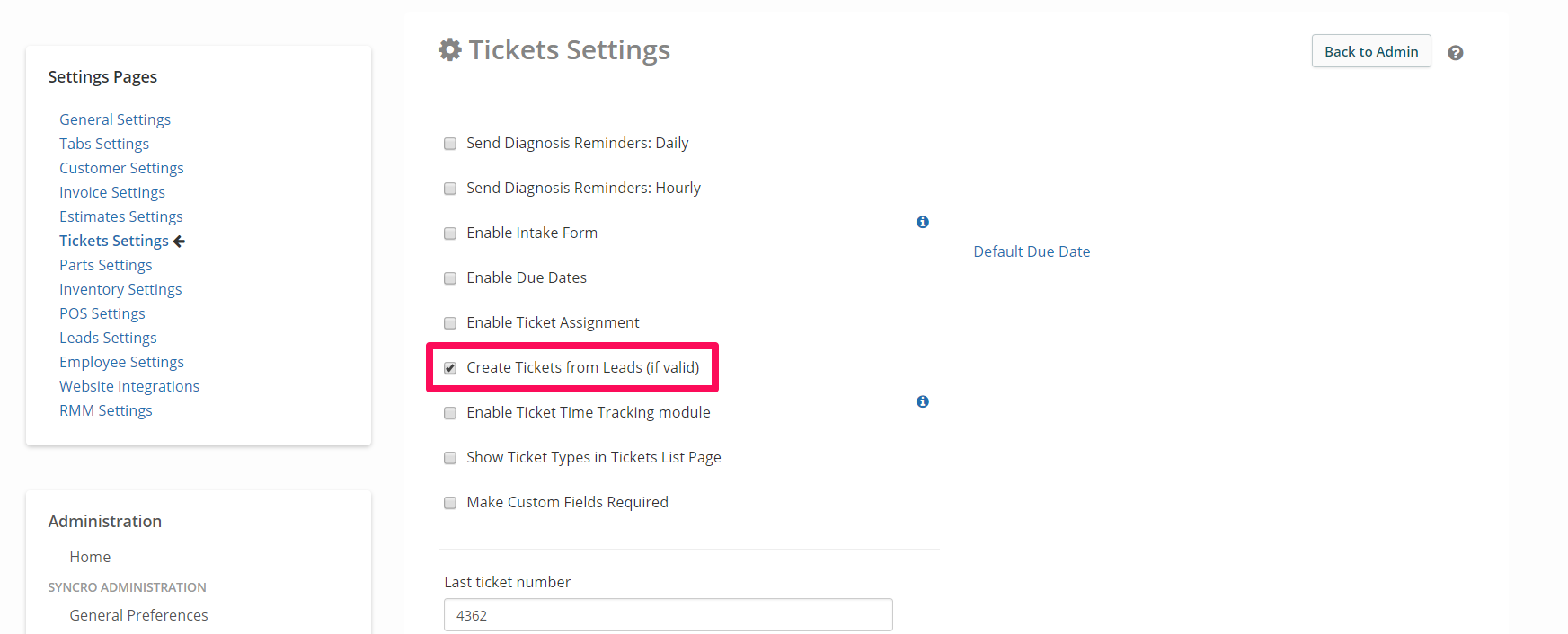 This setting affects any inbound email to your email alias that isn't already another type of classifiable message, like a reply to an existing Ticket or Estimate.




Automatically create tickets with Email Rules
These rules will give you power to assign UNKNOWN inbound email to a customer, or even a contact under a customer. Think of these fields as a 'search' - so you can input partial address/subjects and we'll apply the first rule that matches.

You can create Email Rules by navigating to Admin > Emails and clicking on "Email Rules".





Example: Subject filter
Maybe you want any emails with the subject containing "medcorp" to attach to your customer called "Medical Corp". Just create a rule with the subject filter having "medcorp" and attach the email rule to that customer.





Example: Email address
Perhaps you get emails from many employees at the same company, and you would like to auto-create a contact for every new email that comes in to the system. Just create a rule with the "Email Address" set to their domain, eg, 'medcorp.com', and then any inbound email that contains their domain will attach to the correct customer. You can also check the box "Auto create Contact" and if there isn't a contact, we'll create one for the resulting Ticket.



Note: Email rules are matched by order. Using '@domain' will exactly match 'user@domain.com' whereas 'domain' will match any subdomain with that word such as 'user@a.different.domain'.

Auto-Assign ticket to an employee using Email Rules
If you are auto-creating tickets from your leads, you can even have the rule auto-assign the ticket to one of your employees.


Please note: Email rules run top-down, so if the first rule does not apply, the system will continue to check the list until it finds a rule to apply. This will ensure that if you have multiple rules it will not cause duplications.
Quickly create Email Rules from the Customer Page
Head to the Customer Detail page, then click Edit > Custom Fields. There will be a Email Domains field where you can enter domains for the customer. Hit Save then a Email Rule will be created for the domain and the Auto Contact create will be enabled.
You can then head back to the Customer Detail page and you can scroll down on that page and there is a section called Email Rules where you can manage the Rules for the customer.
Forwarding Customer Emails
If you want to forward customer emails into the system, just forward them in from an email that is a User Account and the resulting Lead/Ticket will have the customer information attached properly!
Note: The Subject must contain "FW:" in order for Syncro to recognize this is a forward and this will ensure we parse the email for the right customer data.

It is also possible to send a email in to your Mailbox and attach it to an existing ticket. Add the instructions below to the subject of the email. You can use this from tech tools or other automated systems to automatically attach documents/logs to tickets.

Simply insert: TICKET:1234

"TICKET" must be capitalized, followed by a colon, then the ticket number you wish to attach the email to.


Ticket CC Magic

If you have automatic ticket creation turned on and a customer sends you a email with someone CC'd on the email, then the CC'd person will be attached to the ticket as an Additional CC automatically.
It's also possible for a customer/client to copy (CC) someone on a ticket comment response to your ticket and the CC'd person will be attached on the ticket as an Additional CC automatically. This will appear under the Additional CC's in the ticket.
It's also possible for a customer/client to copy (CC) someone on a ticket comment response to your ticket and the CC'd person will be attached on the ticket as an Additional CC.
SPF (Email Security) - Keep yourself out of spam folders
SPF is a special DNS record you need to create so that other mail servers know we are allowed to send email on your behalf. You probably already have a record created, for example with Office 365 it looks like:
 v=spf1 include:spf.protection.outlook.com -all
If you want to add our server as permitted to also send on behalf of your domain, you should add our IP like this:

Our IP: 168.245.102.208

Example new SPF record:

v=spf1 include:spf.protection.outlook.com +ip4:168.245.102.208 -all

Adding the above record basically says for your domain, that outlook.com server and our IP are allowed to send on your behalf.

You basically just insert "+ip4:168.245.102.208" into the middle of your existing record, or if you don't have an existing record, make a new DNS record like:

DNS Record Type: TXT
v=spf1 +ip4:168.245.102.208 -all
TROUBLESHOOTING
If you have forwarded your emails correctly and they are still not showing up in Syncro, ensure your email is being forwarded as the originating address and not the forwarded address. Some providers call this redirecting. Ensure you are using the type for your provider so the email comes to Syncro as the original email address