The Customer Portal is a page your Customers can go to to view their tickets, invoices, estimates, and attachments. You can open new tickets, approve/deny estimates, and even take payments! If you're using Vantiv, your customers can pay you through the portal on specific Invoices!
You can also choose the color accent of the Portal! Head to Admin > General Preferences to choose the Customer Portal Accent color or click here to learn more

There are 3 ways your customers can access their portal.

1. There is a link at the bottom of each ticket email that they can click to directly sign into their portal.





2. You can embed our Sign in widget right into your website that they can use with their Ticket # and last name.





3. You can provide a link to <yoursubdomain>.syncromsp.com/my_profile which is the Syncro Customer Portal login page.


If you want to see a Customer's portal, you can go to their Customer Detail page. In the "Customer Information" box you will see a link to view their Portal Profile.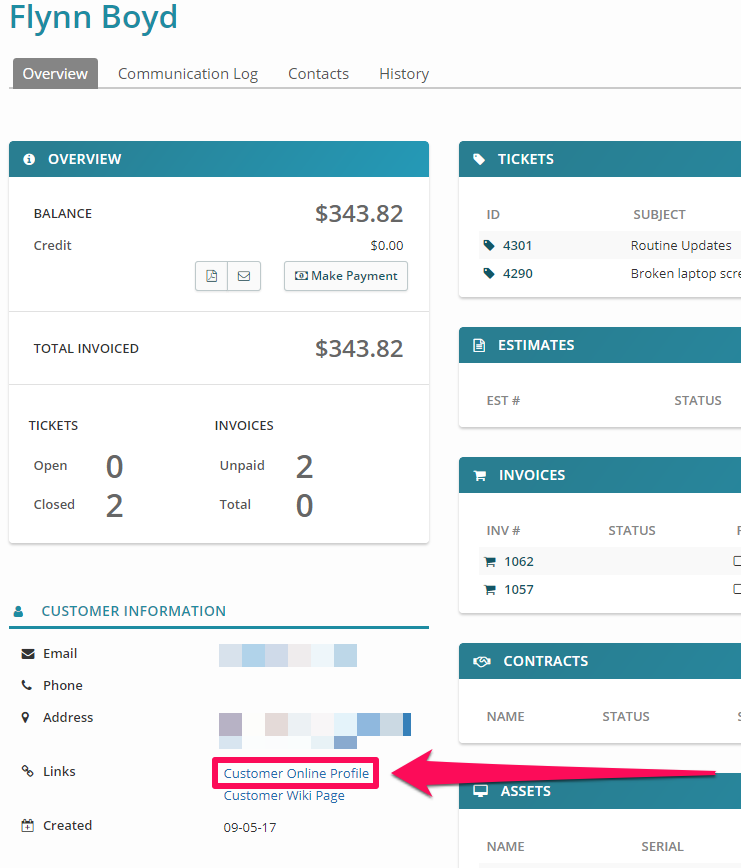 If a Customer wants to log in to their portal with a username and password, you can also create a Portal User.
Redirect Portal URL to custom URL
It is possible to redirect the customer to a custom URL of your choosing if you do not want your customer's using the Customer Portal.
To do this, head to Admin > Customer Preferences > Advanced > Disable Customer Portal and redirect to URL (Leave blank to allow access). The Text Field will be empty (meaning Customer's can access the Portal). You must enter a URL that includes either http:// or https:// for the function to work.
Navigating the Customer Portal
Based on their portal user permission group, customers will see an overview of the portal:
Selecting 'View All' brings up all items in a module with additional search criteria for that module:
User Portal URL
If you need access to the user portal, you can reach the user portal at the following link below.
Make sure to change the subdomain in the URL to your actual subdomain, and that you remove the brackets.