Send Diagnosis Reminders Daily / Hourly: Triggers Diagnostic email reminders at either interval.

Copy private Ticket update emails to hidden comment email: Enabling this will send all private comments to the Tech Notify email,

Enable Intake Form: Customers must sign your Intake Form, containing your Terms and Conditions before moving forward with the Ticket Creation.

Tickets do not email initial problem by default: Customers are not notified of the initial recorded issue during the Ticket's creation.

Enable Due Dates: Allows you to set due dates for Tickets, that will trigger notifications as needed. Due dates can be defined in minutes, hours, or days.

Enable Ticket Assignment: Allows you to assign Tickets to specific Techs.

Create Tickets from Leads (if valid): When a valid Lead is captured, you have the option to convert it to a Customer + Ticket.

Enable Ticket Time Tracking module: Allows you to track how much time is spent in any given ticket by revealing the Ticket Time Tracking module.





Enable Recurring Tickets: Allows you to schedule recurring dates for Tickets. For more information, review this article.

Hide Ticket Status in Customer Portal: Customers will not be able to see the status of their Tickets when they're logged into the Customer Portal.
Ticket Comments - only send SMS during business hours: SMS messages sent from tickets and leads will only send to customers during business hours. If outside of business hours, the message will be queued to send when the business is open:


Show Ticket Types in Tickets List Page: From the main Ticket View, you'll be able to see the Ticket Type Column:





Enable Ticket Priorities: Allows you to set Ticket Priorities on Tickets so your team knows what to address first:



Ticket Settings continued


Subject for Ticket Comment Emails: This is the subject your Customers will see when you submit a new Ticket Comment.

Private Staff Email: This is where you'll receive alerts from your account.

Inbound Email Alias: This allows you to use your own email instead of the default email in the application.

Tech Reminder Email: Certain reminder triggers will go here to alert all of your Technicians.

Ticket problem types: Create a list of all your commonly encountered problem types. Separate with commas, and use no spacing.

Ticket Status List: Create a list of all your desired Ticket Status's: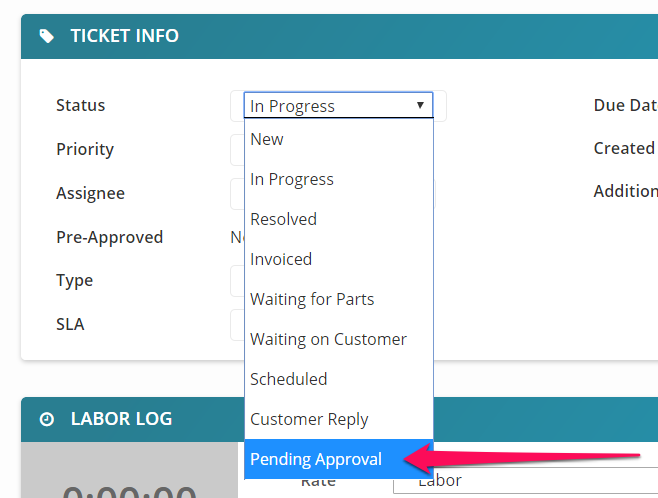 Labor Product for Ticket Timer Labor Charges: Using the Time Tracker Module from a Ticket (See Above), you can track time spend on a ticket, and add this time as a Labor charge to that same ticket when the work in complete.
Fill in the Labor item you'd like to use for Ticket Timer Labor Charges in Ticket Settings.
Start tracking time on a Ticket.
When you're finished, stop tracking Time.
Click "View Log" on the Ticket Timer: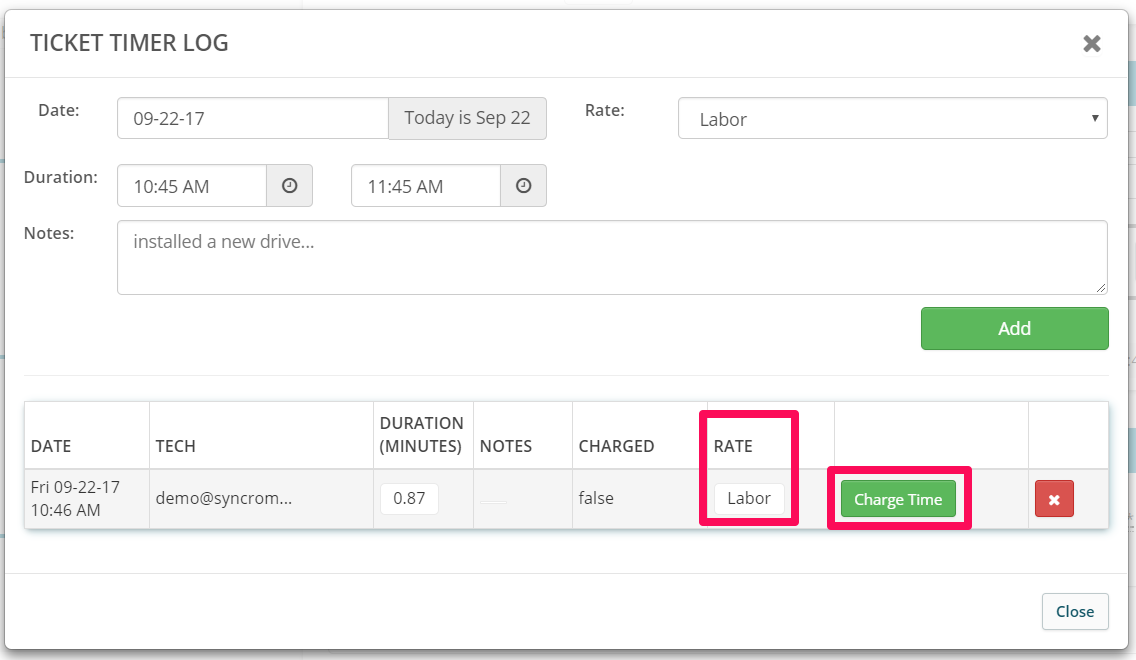 From here, you can automatically charge time spent to the Ticket.
Customize Text for Ticket Timer Charges: Use some template tags to standardize the text used in labor ticket timer charges. Can use Ticket tags, Asset Tags, and Customer Tags.
Customize Text for Ticket Charges: Can standardize text for non-timer labor charges in a similar way as the Ticket Timer charges.

Ticket Custom Fields: Please refer to our existing article on this topic.

Create new Ticket if Customer replies to an old Ticket that was resolved more than X days ago: Prevent a old ticket from getting re-opened by a customer by setting the amount days after it's been resolved a ticket could be re-opened.
Key Words: Ticket Settings, Ticket Preferences, Ticket Options