Table of Contents
The Ticket Dashboard is a great way to view the status of your tickets at a glance. You can easily Chrome Cast it to a company monitor so that everyone is on the same page or simply click over to get a sense of where tickets are in your workflow.
What it Does
Allows you to view Ticket Statuses at a glance using assigned colors
Set an amount of time for when a particular status enters red or yellow status
Set an amount of time before tickets enter yellow or red status
Apply to all company users or create personalized dashboards
Create shareable URLs to display the dashboard somewhere like a TV!
What it Doesn't Do
Tour
To access the ticket dashboard head over to your "Tickets" tab and select the drop down that says "View", then click "Open Dashboard":

Ticket Breakdown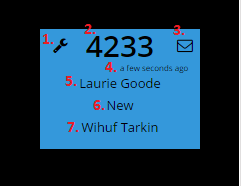 1. Wrench Icon appears if the ticket still needs Diagnosis
2. Ticket Number
3. Envelope Icon appears if a customer replied to the ticket
4. When the ticket was last updated
5. Customer Name
6. Ticket Status
7. Assigned Tech
Settings Breakdown
* Hours until Red/Yellow
How many hours until the software colors the ticket Red/Yellow
Minutes to Warn before Due Date
How many minutes until the software warns you a ticket is due
Hide RMM Alerts
Enable to hide RMM alerts, disable to show RMM alerts within the ticket dashboard
Yellow Override
Time in hours that the status turns yellow (ignores 'Hours until Yellow')
Red Override
Time in hours that the status turns red (ignores 'Hours until Red')
*Color for
Assigns a custom color for that specific status
Hide
Hides tickets with this status from the ticket dashboard
Create Shareable URLs for the Dashboard
To create a shareable URL head to the Ticket Dashboard and scroll to the bottom of the screen. There is a button called "Manage Dashboard Share Links", click to head in.
Next a pop up will appear with a button to create a new link. You can also see the other already created links here, create time stamps and by who. You can also clear the links from this screen as well.
Once you click the green Create button, the screen will refresh and at the top of the page a URL will be displayed that can be used to access the Dashboard.
NOTE: When viewing the shared URL dashboard, any tiles clicked will take you to a login screen and not inside the ticket. This is due to security.
Troubleshooting
The "Hours to Close Last MTD/This MTD" stat only begins to populate once there is ticket data for the last month. If you have not closed at least 1 ticket in the last month until today or the current month until today, then no data will be displayed.
If you have created new custom Ticket Statuses and are not seeing them after clicking on the Settings Icon, you can reset your settings by clicking on the Trash Can Icon and then your Custom Ticket Statuses will appear.
Please note that clicking the Trash Can Icon will delete all of your settings, so be sure to keep track of them so you can re-apply them after the reset.