Overview: 
Scheduled Reports are a great way of getting a report of what happened inside your account automatically generated and shown to you so that you can keep up to date on everything that's happening. It's also a good way to monitor the status of your shop and catch things that happen before they are a problem.
You can also add Report Favorites with different filters for dates and customers to easily run reports. 
Table of Contents:
Scheduled Reports
Report Favorites
Scheduled Reports:
You can set up a new Scheduled Report by navigating to: Admin > Reports > Scheduled Reports: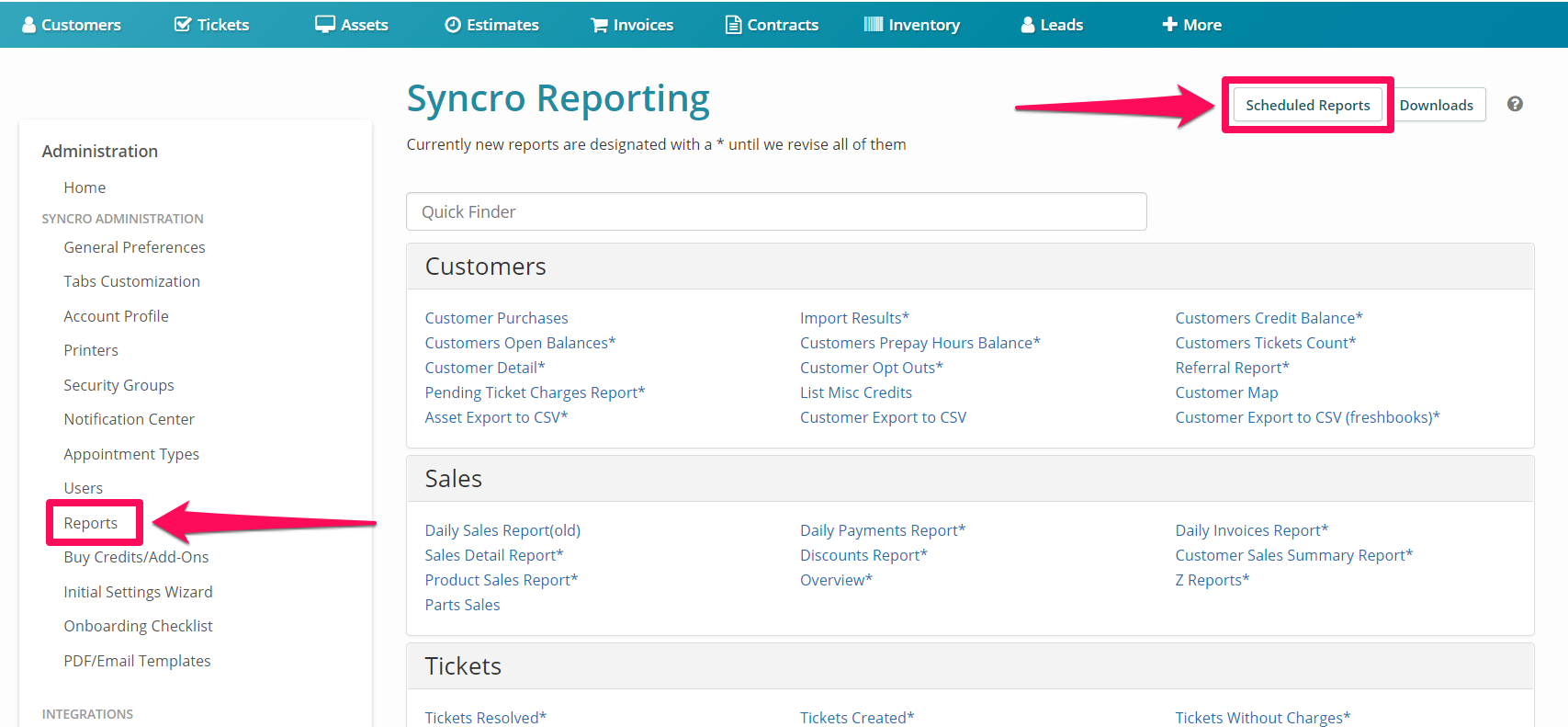 Which takes you to this page:





Once there you'll see a list of all of your reports that are scheduled to run. You can also click on the "New" button to create a new schedule: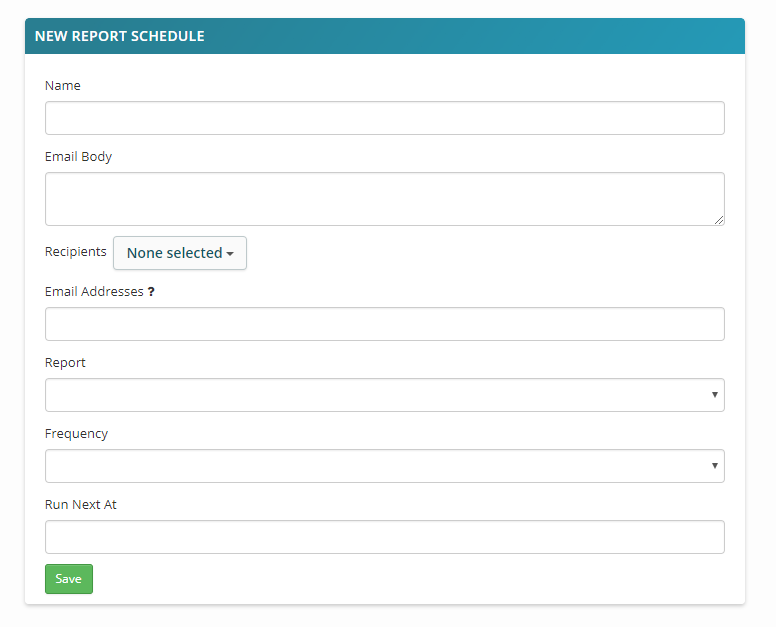 Name: Enter the display name of the Scheduled Report
Email Body: This will be the body of the email that is sent when the Scheduled Report runs
Recipients: Select the User Accounts that you want to receive this Scheduled Report
Email Address: Add additional email addresses that you want to receive the Scheduled Report
Report: Select which report to be generated
Frequency: Controls the schedule for when the report is generated
Run Next At: Select the date for the schedule to begin
Things to note:
The only reports that currently support scheduling are the ones in the "Report" drop-down menu
(NOTE: There are 6 reports that require you to select a customer before scheduling. You need to go to the specific report and select the customer there. They are: Vulnerable Patches, Executive Summary, Customer Detail, Vulnerable Systems, Referral Report, Installed Applications)
If you have typed out an email to send the report to, you will not need to select a User Account as a recipient
You can also access the Scheduled Reports by navigating directly to a report that supports it and clicking the "Schedule" button at the top
Report Favorites:
Report favorites allows you to save all report settings including customer, columns, sort orders, and filters, and save them into a favorite report that can easily be accessed from the main reports page.
Example: 
Using the Asset Audit Report as an example, you can choose the columns, sort order, and filters to customize. 
Then, you can select "Save Favorite" to save the report settings as a favorite. 
Once the favorite has been given a name, you can save the report and it will now surface on your report favorites. 
Things to Note:
Favorites cannot be added to every report on the reporting page. See below for a full list of reports that cannot be favorited.
Favorites can also be accessed by selecting the 'Favorites' button at the top right of the reports page. This will show you a full list of all your favorite reports. 
Not all time filters/periods can be saved currently. Saved reports is a work in progress as we plan to continue to iterate on the number of reports included as well as what filters can be used. 
Excluded reports: 
Customer Export
Customer Map
Sales Overview
Recurring Tickets
Resolved Tickets
Ticket Export
Invoice Export
Inventory Changes
Inventory Changes by Date    
Inventory Stockout

Logistics Export
Product Labels
PO Export
Charts
Payments Summary
Unsettled Payments
Warranties by Expiration Date
Communications Summary
Consumables Usage
Inbound Emails Summary 
Reports that can be saved but not after filtering: 
Communications
Customer Detail
Referrals
Payments by Day
Sales Detail
Reworked Tickets
Refund