Canned Responses are an easy way of quickly responding to common questions and other messages. Some basic uses for canned responses could be to reply to common questions, quickly give out information or complex instructions, or even making sure your technicians are giving out the right information by writing the messages for them as a canned message.
Setup
You can manage your Canned Responses by navigating to: Admin > Tickets > Canned Responses. Once there you'll see a list of your existing Canned Responses like so:
You can add new Canned Responses by clicking on the green "New Canned Response" button in the top right.
To modify a field like the 'Title' or 'Body' field, just click on it once to free it up for editing. Then you can click "Save" when you're done to save the text in that field.
Tour
You can access your Canned Responses right from a ticket for easy retrieval and usage. Just navigate to a Ticket and scroll down to the New Ticket Comment box to get to the "Canned Responses" button shown here:
You can also access your Canned Responses from the New Ticket Creation screen. Just create a new ticket and you'll see the blue icon next to the "Complete Issue Description" field: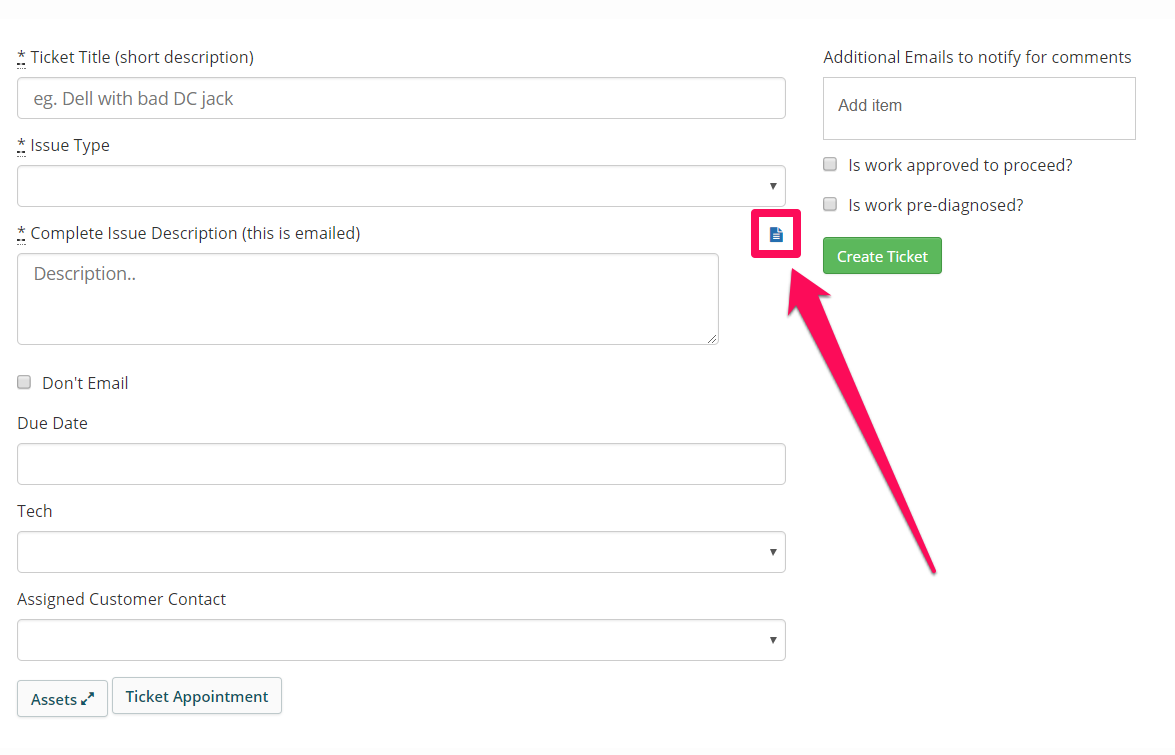 When you click these buttons, you'll get a pop-up box that displays all of your current Canned Responses that you have set up:

You can click the "Insert" button next to each response to add it to the New Ticket Comment box. Clicking this will only add the Canned Response to the New Ticket Comment box where you can modify it further, it will not automatically send that message to the customer.
You can also search through your Canned Responses quickly by typing in to the search field for quick access!
You can click the "modify" link at the top to quickly access the Canned Responses Admin page where you can add/remove/edit all of your Canned Responses. You can also access this page via the Admin menu at: Admin > Tickets > Canned Responses.
Examples
Here are a few examples that you may find useful. You can use these as ready-to-go canned responses, or you can modify them to fit your needs.
Approval
Hi there,
Thank you for response. We'll proceed with the fix and let you know when it's ready to pick up.
Diagnosis
Hi there,
We took a look at your computer and the issue is *. It will be $ to repair. Shall we proceed with the fix?
Diagnosis Prepayment
Hi there,
Just following up on your diagnosis. The issue is ***. It will be $*** to repair. Shall we proceed with the fix?
If so, you can follow the link to the Online Portal and click your invoice to make payment.
Done Total
Hey there - your computer is all set.
We just finished cleaning it up and you can come get it any time. Thanks!
We are open 9-7 M-F, and 11-5 on Sat.
Drop Off
Hey there,
I wanted to let you know that the work on your computer is done. Generally drop-off times are between 10:00am - 4:00pm Monday - Friday. You can look at my schedule and let me know when you are also available. I will then confirm with you to set up the drop-off time.